Sunday Worship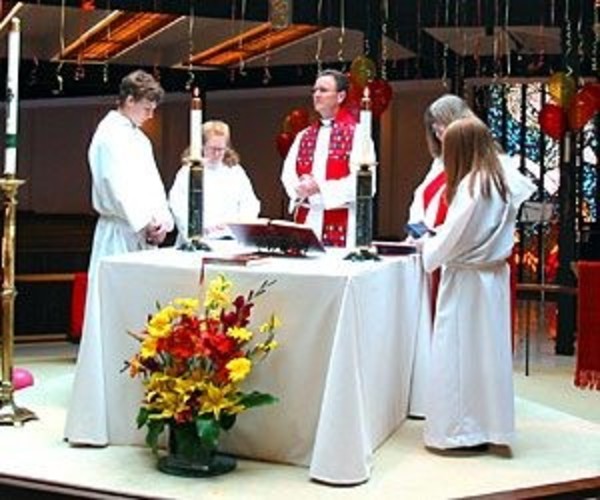 The focus of our life together is our worship, and Episcopal worship is rich in symbolism and tradition while maintaining its relevance to this time, place, and culture. Worship at St. Anselm's reflects our belief that there are many ways to worship, pray, express our faith, and connect with God within the framework of the Book of Common Prayer. Throughout the year, we also enjoy experiencing worship services from the Prayer Books of other Anglican churches (such as New Zealand, Canada, or the UK). All services are celebrations of Holy Communion.
Currently, Sunday morning worship consists of a single service, both in-person and online, at 9:00 a.m. The service is typically around one hour in length and includes some music.
In-Person Worship
Per the Diocese of California, in-person worship is allowed under the following conditions:
Parishoners may unmask; the choir and officients will remain masked. 
Worshippers will be asked for contact information for contact tracing if necessary
Communion wine will be offered in individual serving cups and not a common chalice.
Please stay at home if feeling unwell.
On-line Worship
Worship is available on-line via zoom, and attendees on-line will be able to offer prayers that will be heard by congregants in the church building, bringing us all into communion. Here is the bulletin for this week's service, for those attending on-line who wish to follow along. The meeting ID is 836 4465 8675 and the password is 232199. Or use this link to join the service on Zoom. If you have any technical difficulties or would like assistance logging in, please contact the parish office.
Morning Prayer
Morning Prayer is part of the Daily Office and is a wonderful way to ready ourselves and begin a new day with renewed focus. Morning Prayer is offered on-line via zoom on Tuesday mornings at 9:00. To receive the link please contact the Rev. Naomi Chamberlain-Harris at [email protected].