The Rev. Stephen M. Siptroth
Rector
Stephen began serving as the rector (pastor) at St. Anselm's in July 2023. Before joining us, he served as a transitional deacon at The Episcopal Church of St. John the Evangelist and Grace Cathedral, both in San Francisco; as a port chaplain at the Port of Oakland, providing pastoral care to seafarers from around the world; and as a field education intern at Holy Innocents Episcopal Church, in San Francisco. Until transitioning to full-time ministry, Stephen worked as an Assistant County Counsel for Contra Costa County, where he focused on issues related to water resources, wastewater, transportation, land use, and real estate. He holds a Master of Theological Studies degree from the Church Divinity School of the Pacific, a law degree from the University of California, Davis, School of Law, and a bachelor's degree in political science from the University of California, Irvine. He and his wife, and their many rescue animals, have lived in Concord since 2010. When away from their work and community service, they enjoy traveling and spending time with their goddaughter, friends, and family.
The Rev. Naomi Chamberlain-Harris
Deacon
Naomi was born and raised in Oakland, California. In 2006, she retired from Kaiser Permanente Medical Center in Walnut Creek and enrolled in the School for Deacons. She was ordained by Bishop Marc Andrus in December 2009, and began her ministry at John Muir Medical Center as a volunteer chaplain. She also became the spiritual advisor to the residents at Crestwood Healing Center in Pleasant Hill and began her ministry as deacon at St. Anselm's. Naomi considers it a gift to be part of the loving and caring community at St. Anselm's.
Cathy Witkay
Office Manager
Cathy was born in New Jersey and moved to the Chicago area in her early teens. She graduated from the University of Illinois and earned an MBA from Saint Mary's College of California. Before leaving the full-time work world to raise her three children, Cathy was Vice President for fundraising and fund distribution with the United Way of the Bay Area. Prior to joining UWBA, she was the Manager, Corporate Advertising for Pacific Telesis Group and Pacific Bell. She and her husband were both raised in the Episcopal Church and have been part of the St. Anselm's community since 1991.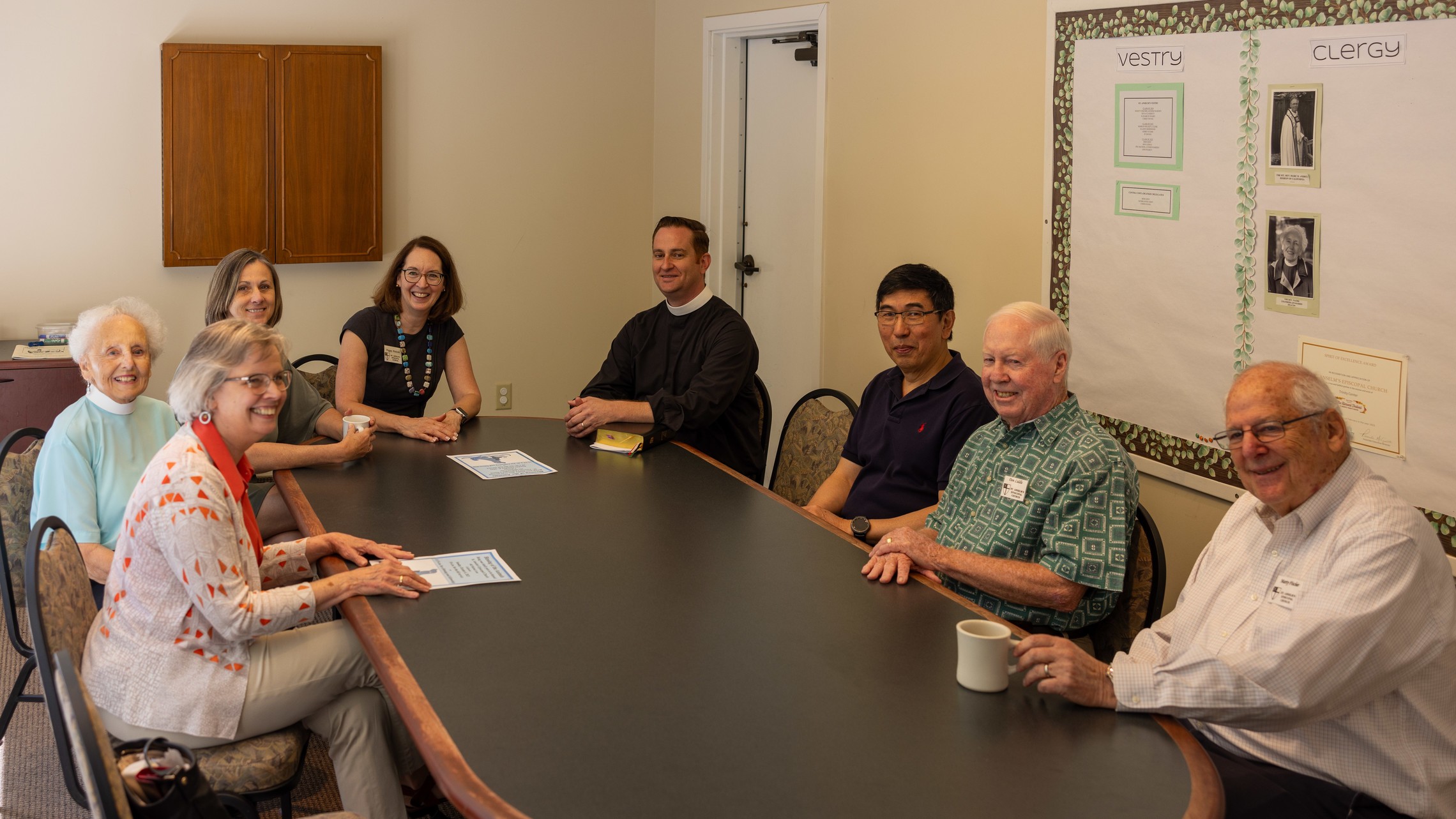 The priest in charge of a parish is called a rector. Along with the rector, the business of the congregation is conducted by the vestry, the members of which are elected at the annual meeting, at which functions in a way similar to the Board of Directors of a corporation. At. St. Anselm's, there are twelve members of the vestry. The senior officers of the vestry are called wardens (usually called senior and junior). The vestry is responsible for managing the church's finances and property, and also takes on responsibilities related to church programs, direction, and outreach.
Vestry members serve a three-year term. At each annual meeting, one-third of the vestry rotates off. Those currently serving on the St. Anselm's vestry include:
Class of 2024
Marty Fischer (Senior Warden)
Neva Flaherty
Chris Young
Elisabeth Ward
Class of 2025
Marian Mulkey (Clerk)
JP Zhang
Gerry Starr
Elaine Sherwood
Class of 2026
Bob Eddy
Don Liddle
Peg Matson (Junior Warden)
Joni Pearce