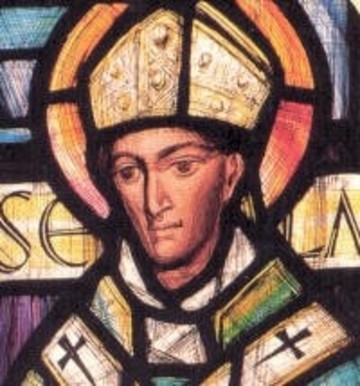 St. Anselm's is a welcoming, inclusive community committed to loving God and neighbor, growing in faith, caring for each other, and serving others. Our building is nestled against the rolling hills of the Burton Valley in Lafayette, but our community reaches well beyond our physical boundaries to make a difference in the world. We are warm, caring, and accepting, knowing that everyone who comes through our doors is a gift from God.
St. Anselm's is named for Anselm of Canterbury, a Benedictine monk and theologian who also served as Archbishop of Canterbury from 1093 to 1109. Anselm is perhaps best known for his teaching on the relation between faith and reason, his motto being "faith seeking understanding." He writes, "I do not seek to understand that I may believe, but I believe in order that I may understand." The people of St. Anselm's also seek to deepen their understanding and experience of God as they live out their belief that God loves, cares for, and values every person and that, as followers of Jesus, we are called to do the same.
St. Anselm's is a member of the Episcopal Church in the United States of America (ECUSA). The word Episcopal means "bishop" in Greek, and the Diocese is overseen by our own bishop, the Right Reverend Marc Handley Andrus. The Diocese of California is made up of approximately 75 worshipping communities in the five Bay Area counties. The Episcopal Church is overseen by our Presiding Bishop, the Most Reverend Michael Curry. There are approximately 2.5 million members of the Episcopal Church in the United States.
The Episcopal Church has its roots in the Church of England and is a member of the Anglican Communion, a worldwide association of self-governing churches or provinces in over 160 countries. The Archbishop of Canterbury, the head of the Church of England, is the spiritual leader of the Anglican Communion. Together, we join with our brothers and sisters across the globe in our common worship and service to Christ.